Smart Audio Income
Welcome to Smart Audio Income! I'm Anthony Navarro, and I'm so grateful that you're here.
You may think I started this website simply because I adore the art of audio engineering Well, that's true! I love music and sound and get all giggidy for it.. But more importantly, I created Smart Audio Income because I care so much about the success of audio engineers.
Audio Engineers are some of the hardest working, most generous people I know. Sadly, most audio engineers break down because the love of the craft and creating amazing music, concerts, games, films, shows and more is completely separate from the business side of getting audio engineer jobs. To make matters worse, there is no central resource to help engineers find paid gigs and solve their job hunt and business problems. Until now…
Enter Smart Audio Income: Your one-stop destination for all the inspired instruction and resources you need to grow your audio engineering career and make your life easier.
Smart Audio Income Will Help You Find Clients, Jobs, Earn Income and Enjoy a Better Quality of Life.
At SAI, we believe that audio engineers are catalysts of creativity and happiness. Artists flock to their favorite audio engineers to help make them sound great. And any audio engineers finished work is a product for social gathering to be enjoyed with friends or family. We believe that the love and support of this tribe is what determines the success of any audio engineer.
Our mission is to empower you as a strong tribal leader of your artists/client base. We'll teach you online marketing strategies, offline community organizing tips, smart branding moves, and more that will make your audio engineering services memorable and worth talking about.
We'll also bring you insider stories with real audio engineers (employed, freelancers, business owners) as well as research on important audio engineering business subjects like local pricing research and how to get sales for your audio engineering service. All our reports will be backed by proven examples and credible sources. Like your audio wizardry skills, our content will be the best!
Ultimately, an audio engineer with an active tribe is an audio engineer with a thriving business or career. So, if you've ever asked yourself "Where do I find my next job?" or "How do I use social media to get more customers?" or just simply "What do I do next?", then you've come to the right place!
To join our community of smart audio engineers receiving the best business advice around, subscribe to our email newsletter. It's free and packed with the best tactics from pros around the world!
Meet Anthony Navarro: Audio Engineer and Entreprenuer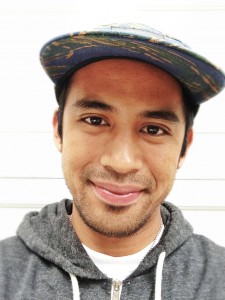 February 2, 2003 – Pensacola, FL I was in the library of the local community college I was attending. My first year out of high school, like most kids these days, I had NO idea what the hell I was doing. I was just following the old age advice of:
"Go to school"
"Get a degree"
"Find a good job"
Sound familiar right?
It was my family that pressured me to enroll in college right after I finished high school.
They we're like "if you don't go to college your going to have to move out of the house and be on your own!"
And I was all like, "Mooooom! Meatloaf?! I'm hunnnngry!" I didn't want to lose my only source of food in my belly, so I did what any other 17 year old kid would do. DO WHAT MY PARENTS SAID.
So I sign up for school, with no choosen major, fumble around for a year and a half taking random classes that SUCKED major BUTT! In fact, I didnt take my SAT or ACT tests like I shouldve done in high school. So when I went to college I had to take the prep test to qualify to attend.
I FAILED EVERY TEST SOOOO BAD!
So I got put in a bunch of remedial classes that the dumb kids have to take before they can take college level classes. WHEW!
I was not excited or challenged to be there. I had enough after 2 years and was ready to quit!
BUT THEN….
In the library while I was checking out hot chicks on Myspace, (yes, myspace, this was 2003) I bumped into my friend Gary and he was telling me about this college where you can learn how to do music production and work in the entertainment industry as an engineer or producer.
BING!
The school was called Full Sail University. After doing some extensive research, I made up my young mind to go! The only problem……..the tuition was astronomically high!
My parents were like, "PHUCKKK THAT! We ain't gonna pay for that! Plus, you can't find NO JOBS doing audio engineering!" They didn't even know what an audio engineer did. And to this day, they still think I'm some kinda of a singer or something. In fact, whenever I tell someone I'm an audio engineer, they always look confused and are like, "so your like a DJ and stuff?" And I just nod my head and say yep, I DJ. HAHAHA!
So my parents won't pay for this school. But I REALLY want to be an audio engineer, and I love music, and I've been playing music since I was 6 starting out on the piano. And then I was actualy a DJ at one point.
So I set a GOAL: I will go to Full Sail to learn how to become an audio engineer. I will work a full time job and save up some cash and get loans for the rest of the tutition. My target date was June 2005. And once I have a degree, I will work in the Recording Industry working for famous artists and make awesome music.
It was 2003. So for a year and half I busted my ass bagging groceries and working customer service jobs. I saved up like $7,000. IT WAS THE BEST FEELING in the world to be working towards something I was passionate it about.
And in 2005 I went all in. Packed my bags, kissed my parents goodbye, and started my adventure I had set the goal for 2 years prior.
Key Point: Investing in any kind of education that will make you better will payoff ten folds in the future.
In Smart Audio Income we'll talk about what skills the best engineers have paid to learn.
Flash forward after graduating:
January 2007
New Goal- work at a recording studio in Los Angeles.
What actually happened -Moved to Los Angeles and lived on my aunt's couch to try to make it big in Hollywood. Ended up with a bus pass, worked at Disneyland wearing stupid outfits stocking shelves and sold time shares for Marriott hotels. WTF!
Although I did this for 6 months while living in LA, I learned an imperative skill that I use as an audio engineer to this day: The Art Of Selling
And in July of 2007 I was fed up working at Disneyland. I decided to start my own business and just find my own clients to pay for my audio engineering skills.
And then my friend from Full Sail, Chino from Chicago, called me with a job offer in Chicago to work with the legendary, grammy-award winning, R&B artist R.Kelly. And my life changed from that point.
I said, PHUCK IT, and moved to the windy city to work at R.Kellys studio. And remember, I've already decided to work for myself as a freelance engineer. And I didn't want a job, and a boss, and being on someone elses time. But remember, investing in yourself will payoff tenfolds in the future. I was an unpaid intern at first, then hired on as a paid assistant. My investment was my time and free labor. My payoff was knowledge, skills, and experience working with high-profile recording artists.
I decided to go out there, and learn what it takes to make it in the industry. I assisted some of the best engineers out, and learned the entire process to make a hit record.
One of the best feelings was working on a song that he did late night until 4 in the morning and then on my way home the next day the song was already on the radio. I realized that I had hit my goal.
I even got to work with one of my favorite rappers, Talib Kweli. Randomly this guy just shows and up was like, I want to record with R.Kelly. And R.Kelly didn't even know who he was. And I was so stoked to meet Talib Kweli in person and work with him.
I ended up going on tour with R.Kelly in 2007 and toured across the US doing shows in every major city. It was awesome! I lived on a tour bus for 3 months. This was what I wanted to do, be on tour and work concerts!
I worked with gigs several other artists including: Kid Rock, Ludacris, Rick Ross, Whitney Houston, Foo Fighters, Taylor Swift, Jay-Z, Kanye West and more after I left Chicago and moved to Atlanta to pursue my freelancing business in 2010. And it took so much time and effort to setup a system to where I would find jobs, gigs, and figure out how much to charge and what to do with running a freelance audio engineering business.
Luckily at that point I had tons of resources, mentors, and have been taking online classes and reading books to learn how to successfully earn income as an audio engineer. It was a whole lot of sweat equity and headaches but I created an amazing process that took years to develop.
And now, my process is setup to where clients automatically find me, and hire me to the point where I have to outsource some of the jobs to other engineers because I get overbooked.
Throughout the whole adventure since 2007, I've had this other idea to help other audio engineers do what I did and teach them my entire business strategy. I went through tons of BS to figure it out. And I know that other engineers would benefit from mine and other peoples experience working as a freelancer. And hack their way to success without having to make the mistakes I did.
So in May 2013 I decided to validate my idea and see if people wanted this knowledge. The main benefits: Get Clients, Earn Income, Enjoy A Better Quality life as an audio engineer.
And the validation test proved successful! The response rate is excellent. And I'm super excited to teach the step-by-step guide to become a successful engineer and to do the work that YOU LOVE to do.
This is how Smart Audio Income was born in May 2013.
And remember, if you only take away 2 key points from my story, take this:
1. Set a serious measurable goal for the work and lifestyle you want
2. Investing in yourself via education will payoff tenfolds in the future.
This is what I live my life by, and I actually learned this from very successful and happy people I've met through all my experiences as an audio engineer. And I hope you take this with you because I bet you $1 you will remember this every time you win big in life. You'll be like "damn, anthony from smart audio income was right!" "Every time I set a goal and actually right it down I win and when I invest in myself for self-improvement something good happens later on in the future."
Stay awesome,
Anthony Navarro